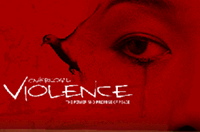 HELLO! I'M JOSEPH MAY.
Peripateo is from Koine Greek περιπατέω, meaning to walk (around); to live, conduct one's life. This is a blog about my walking - my journeys, my thoughts on life and faith. I am a graduate of Greek Orthodox seminary.
I spent 10 life-changing years doing outreach ministry for the homeless in Akron, OH. In 1998, I began volunteering with the Catholic Worker Community of Akron, working with homeless women, men, and families.
In 2000, I founded Matthew 25 Ministries and served as its director. The project included a house of hospitality for homeless men, outreach to the Summit Lake area of Akron, and ministry at the Summit County jail. It was an honor to work my father, Joe Sr., to rehabilitate what had been a crack house and to begin the work of hospitality. We received great support from the Orthodox Christian communities of northeast Ohio. During the years 2000-2007, more than 200 homeless guests found transitional housing at Matthew 25 House.
Matthew 25 Ministries typically served people dealing with addiction, mental illness, disabilities, and felony histories. I lived in community there with all of them. Guests were connected with every available social service in the hope of helping them reach independence. Our ministry also involved outreach to the Hispanic population in Akron. We have been blessed and enriched to know each of the people who stayed with us.
In 2004, Matthew 25 Ministries was very honored to be one of the recipients of the "Blessed Are the Peacemakers" Award by the World Council of Churches in honor of their Decade to Overcome Violence. In 2006, we also had the honor of receiving the Summit County Social Services "Making a Difference Award".
I now have spent 20 years in various forms of poverty ministry, youth ministry, and jail ministry. I had the privilege of serving as the Program Director at OPEN M Ministries under Rev. Tim Crouch. I also enjoyed working as the Youth Ministry Director at CYO and Community Services. I have been a church musician for 25 years.
I am a member of St. Elia the Prophet Orthodox Church and Annunciation Greek Orthodox Church in Akron, Ohio.
​
For the last 11 years, I have been blessed to work as a corporate social responsibility manager at the wonderful State and Federal Communications with Elizabeth Bartz and the amazing team.
​
I'd love to hear from you.